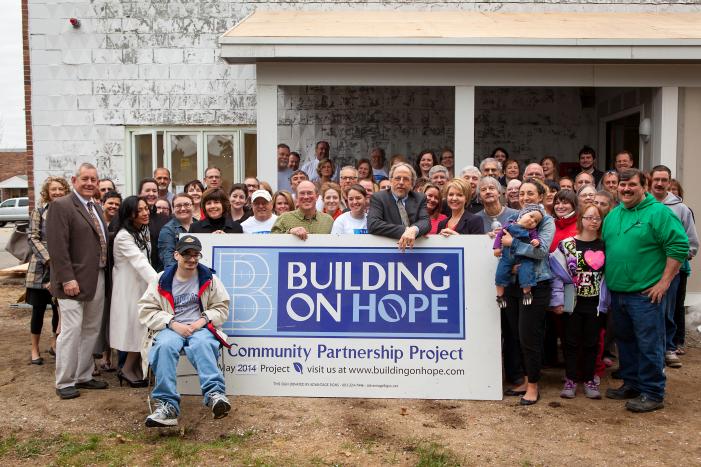 At the 2014 reveal of the remodeled and refurbished headquarters of Opportunity Networks in Amherst. You can read the stories of all the projects at New Hampshire Home's sister publication nhmagazine.com.
Building on Hope celebrates 10 years.
If home is where the heart is, then the nonprofit facilities renovated by Building on Hope (BoH) have homey-ness covered in spades.
For a decade, BoH has brought together volunteers, donors and sponsors to provide Granite State nonprofits with sorely needed physical upgrades. The nonprofits incur no debt from BoH's work, and the makeovers are extreme in that they are radical and lightning fast, with construction typically beginning and ending within a couple of weeks (unless a pandemic happens to rear its ugly head).
While these projects might lack some of the swank and splendor that you typically see featured in this magazine, they do indeed have a lot of heart— not to mention functionality and style.
The spark for BoH came from a 2009 conversation between Rick Broussard, editor of New Hampshire Home's sister publication New Hampshire Magazine, and Emily Shakra of Emily Shakra Design. Shakra proposed they initiate an effort to help nonprofits and the construction industry, both of which were feeling the effects of the recession. Soon, Jonathan Halle, of Warrenstreet Architects, and Karen Van Der Beken, who worked at Easterseals at the time, joined Broussard and Shakra, and became BoH co-chairs.
Reflecting on BoH's history, it's clear all who have supported the organization have transformed not just physical spaces but people's lives. For example, during the big reveal of BoH's first project—an Easterseals boys' home in Manchester—the resident boys had been housed elsewhere during construction and arrived back at the remodeled group home via a donated limo ride. Upon viewing the renovated building, "they couldn't believe it," Shakra recalls. "One boy said, 'I never knew people cared about me.'" Since BoH's inception, the organization has completed makeovers for six New Hampshire nonprofits. Each project is a study in devotion, determination and creativity, as hundreds of volunteers have worked to provide maximum results while relying heavily on donated resources.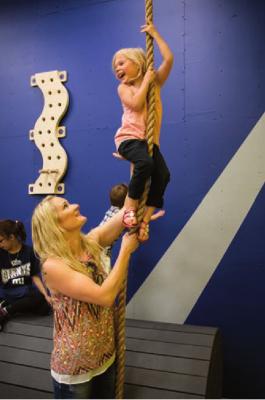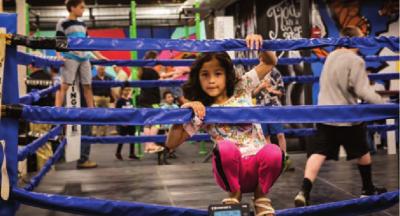 These scenes are from the 2016 reveal celebration at the Manchester Police Athletic League. The boxing ring (above) was one of the few original pieces of equipment still left at the refurbished center.
The Crisis Center of Central NH: The Kitchen

For the 2018 renovation of the kitchen in the 120-year-old building of The Crisis Center of Central NH, BoH volunteers resurrected a somewhat dilapidated space to create a modernized, attractive meal-prep and dining area. The Crisis Center, located in Concord, works to end domestic and sexual violence and provides a refuge for domestic abuse victims and their children.
When Shakra first entered The Crisis Center's kitchen to plan the redesign, "it was like walking into an old 1920s kitchen that had fallen apart," she says.
The kitchen was cramped and inadequate for the needs of The Crisis Center's guests. Shakra and fellow designer Paul Mansback, Inc., removed a wall Leslie Rifkin, of L. Newman Associates/to expand the space. Anticipating the kitchen would be a high-traffic area, the designers installed a new 10-foot island topped with durable quartz across from four commercial refrigerators. Shakra and Rifkin replaced the old, cracked linoleum with hard-wearing but visually pleasing vinyl-plank flooring. With the seating at the new island, plus additional table seating, a room that still is not overly large can now comfortably accommodate many people and enables families to eat together.
A combination of open, walnut shelving and closed, white cabinetry— donated by Capital Kitchen & Baths— provides flexibility for organizing and easy access to stored items; plus, the exposed shelves also make the area feel more spacious. For the countertops, Shakra and Rifkin chose the same quartz that covers the island, replacing stained laminate. A stainless-steel Thermador range with eight burners and a griddle offers ample cooking space.
The designers selected a deep dove gray for some of the walls and trim, and repeated touches of soothing mauve in a wall hanging, a floor rug and delicately patterned Roman shades that hang above privacy blinds. Globe pendants and recessed lighting enhance the abundant natural light in the room and make kitchen work easier, while built-in chalkboards provide a fun place for kids to doodle while mom is busy.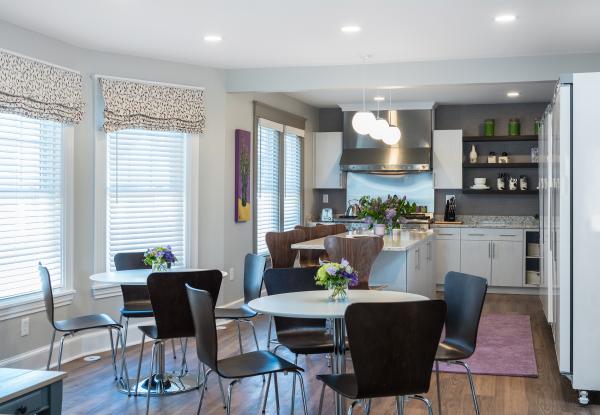 Emily Shakra and Leslie Rifkin reimagined the kitchen at The Crisis Center of Central NH, making it into a warm and welcoming space.
Removing the wall that previously separated the kitchen from the living room enables resident women who are preparing meals in the kitchen to stay within eyesight of their children playing in the living room—an important consideration for individuals who have experienced the kind of trauma that The Crisis Center residents have been through.
The new kitchen is compliant with the Americans with Disabilities Act (ADA), open and airy, functional but welcoming. Shakra and Rifkin created a space that is homelike rather than institutional. "We completely redid it," Shakra says, "and it turned out fabulous. We were able to make it look really pretty."
Nashua Police Athletic League: The Creative Learning Center

In December 2020, BoH wrapped up a makeover of the Nashua Police Athletic League's (Nashua PAL) 100-yearold facility. The building provides a safe haven for local youth. Here, Nashua PAL police and staff provide mentoring, academic assistance, athletics and other services for approximately 600 kids per year between the ages of 7 and 18, most of who live in poverty. Due to COVID-19, what was initially expected to be the usual twoweek BoH construction period took half a year to complete.
BoH volunteers added vibrant colors and designs to the building's brick exterior to echo the energy and youthful vibe inside. Outside murals created by Manny Ramirez, of Positive Street Art, include a girl superhero who is nearly two stories tall.
Panels designed by Lisa Law, of Lisa Law Feng Shui, and architect Kelly Leitner, of Warrenstreet Architects, flank the building's front entrance with rainbow-hued shapes that gently arc and undulate.
Inside is a mix of offices, learning and play spaces for the kids, a boxing ring, and more. Designers put repurposed wood to work in various areas and united spaces in the facility with splashes of persimmon throughout. Even the pool table in Nashua PAL's first-floor game room is covered in a deep orange, and the color repeats on chair upholstery, a pendant light and decorative items in the room.
A kitchen—with a pass-through window that links to the game room— provides space for making meals and snacks for the kids, but also serves as a teaching kitchen where visiting professional and home chefs show Nashua PAL children how to make healthy meals on a budget.
BoH also knocked down walls that previously divvied up a warren of drab and cluttered spaces to construct the Creative Learning Center, a large multipurpose space flooded with natural light and further brightened by touches of azure blue. Unattractive pipes that hung overhead were removed, thanks to a new HVAC system donated by Elliot Hall, of J. Lawrence Hall Co. in Nashua. The room is now wired for today's technology, and stocked with iPads, Chromebooks, a 3D printer and more for the kids to use. Interior designer Brenda Baron installed a border of decorative, colorful gears above the computer work area and repeated the theme with a smaller cluster of gears that liven up an adjacent wall.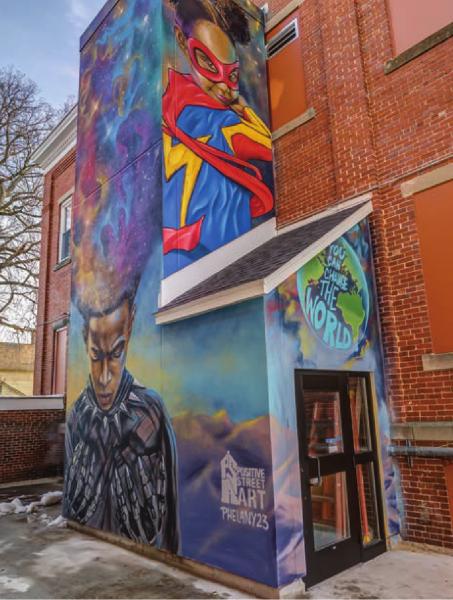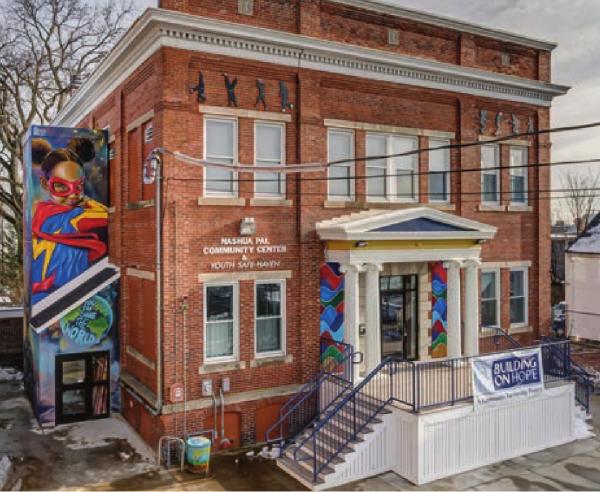 Positive Street Art turned the Nashua Police Athletic League's exterior into a work of art. This most recent Building on Hope renovation provided many structural and aesthetic improvements, and was completed in December 2020.
Intriguing, round seating is sprinkled throughout the space, with a fun surprise: the seats wobble if you want them to—perfect for youngsters (or adults) with excess energy. Dubbed "Oodles," from the Smith System line of school furniture, the seats have arched pieces on the bottom that allow them to rock, but they can also be flipped to provide a flat, stable surface. The seats are a cinch to move around and can be stacked higher or lower to suit your purposes. "I got several of those because the kids are fidgety," Baron says. "But even when some of the [adults] came in the room, they were like, 'These things are cool! These are so fun!'" To provide additional seats around the room's perimeter, Baron created window seating with a patterned cushion that repeats the room's blue color. Below, cubbies provide storage space—a priority on Nashua PAL's wish list for BoH.
Anchoring the room is an eyecatching, custom bookcase with white, angled shelves that form a starburst shape, inviting readers to come close and pull out a book. "I wanted [the bookcase] to be like an art piece," Baron says. "It was going to be the wowza piece in the room, but it also had to hold a lot of books. … It took probably about two hours to put it up and get it to fit together just right."
To the left of the bookcase, a small, play kitchen provides a place to pretend. Steps away, tucked under a loft, are ever-popular American Girl dolls, complete with numerous accessories and a furnished dollhouse. Baron took care to choose dolls that reflect the diversity of the children who will play with them, and installed built-in storage beneath the doll area for the dolls and all their accoutrements, she says, "so stuff won't have to be just sitting in a crate on the floor."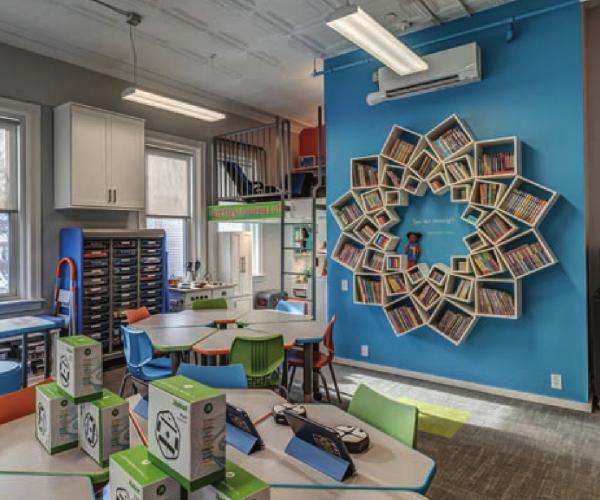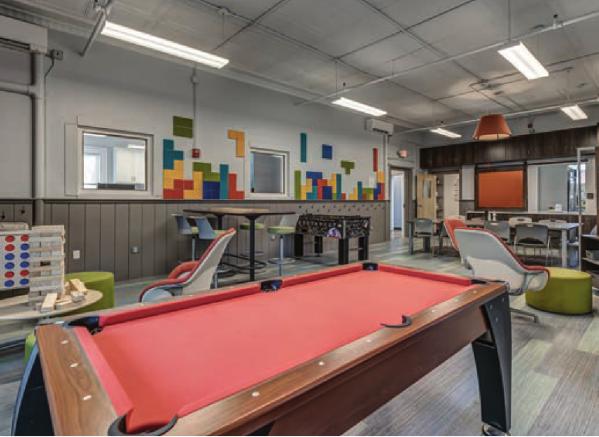 Top: Brenda Baron calls this unique bookshelf the "wowza" piece in the new Creative Learning Center at the Nashua Police Athletic League. Above: Fun and functional combine to foster both learning and relaxation.
At the entrance to the doll nook, a built-in ladder—chosen over a spiral or regular staircase because it minimally impinges on nearby space—enables kids to climb their way up to a reading loft where ultra-comfortable gaming chairs await. The striped chairs swivel and recline, and because they are low to the floor, provide a perfect solution in a space with limited headroom. Wall sconces cast a soft, mellow glow and enhance the daylight that streams through a window. "Older kid" books line the shelves against the back wall, ready for those who want to explore other worlds and lives. Because the loft is a bit separate and accessible only to older kids due to the ladder entry, it holds special appeal as a more grown-up retreat. "The kids get to sit up there and read, and it's just like their own little hangout," Baron says.
Small details play a vital role in designs of any budget, Baron says, and the Creative Learning Center was no exception. From repeating colors— Baron even spray-painted the inside of a pendant light to match the hues of the room—to sanding and repurposing an old, beat-up butcher-block table to create an appealing, solid-wood counter for the play kitchen, "it's the little touches that bring the room together," she says. "And a gallon of paint goes a long, long way."
The folks at Nashua PAL couldn't be happier with their BoH makeover. "At every turn, it exceeds all our expectations," says Shaun Nelson, executive director of Nashua PAL. "I see the building as a tool for our organization to use to access, strengthen and educate our young community members. We've been doing this for a lot of years … and did a good job before, but with this new building, now we can do it even better.
"In every room," Nelson adds, "you can feel love. … We're going to change kids' lives in this building."
---
RESOURCES
This is a fraction of the 2,000 people and companies involved in these extensive projects.
Visit buildingonhope.org for more information, to learn about the selection process and to find out how you can help.
The Crisis Center
Capital Kitchen & Bath • (603) 225-8300
capitalkitchenandbath.com
Chapman Construction/Design